Quartz substrate for WDM, U-shape quartz rod, Fiber optic passive components
Application:
U-shape quartz rod
is
used for the matching of fusion tapered optical communication passive components
Used to make WDM, fiber combiner, optical isolator, etc.
Regular dimension of the U-shaped quartz rods:
NO
Specification
Tolerance
OD/W
A
L
h
OD
A
L
1
1.0/0.5
15-38
5-100
<(OD/2)
±0.03
±5
±0.2
2
1.1/0.5
3
1.3/0.55
4
1.4/0.55
5
1.5/0.5
6
1.6/0.75
7
1.8/0.7
8
2.0/1.2
9
2.5/1.6
10
3.5/2.0
11
Other size
According to requirement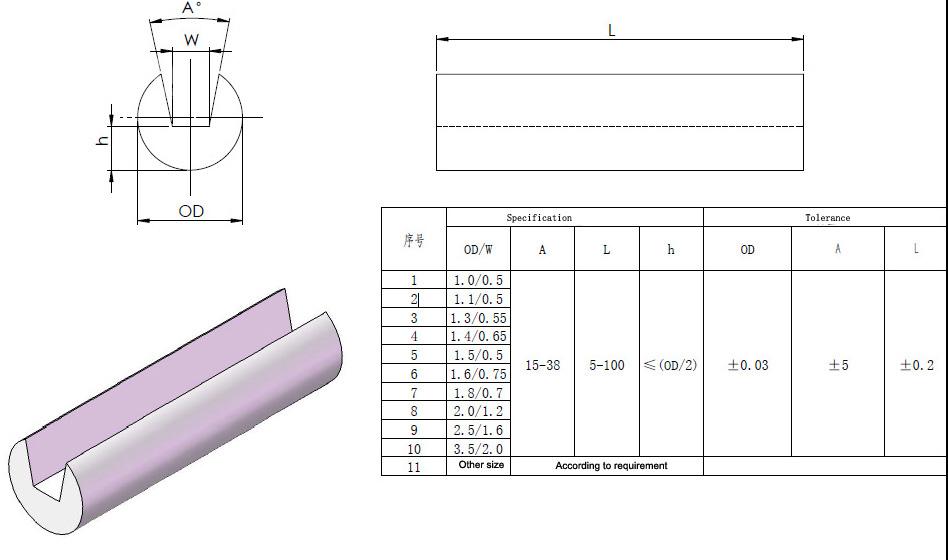 The Main Properties of Quartz Glass:
Mechanical properties
Quartz glass is a brittle material with low tensile strength and high compressive strength. The latter is 20 times that of the former.
Thermal performance
Quartz glass has a very low coefficient of linear expansion, very good resistance to thermal vibration, and is a poor conductor of heat.
Optical performance
An important difference between quartz glass and ordinary glass is its good transmittance in the entire spectrum, especially in the ultraviolet and deep ultraviolet spectrum, which is not available in ordinary optical glass.
Electrical performance
The main electrical properties of quartz glass are high dielectric electric field strength, low dielectric loss and low conductivity.
Chemical properties
Quartz glass is a material with very good chemical stability and does not react with water, salt solutions and most acids.
Radiation resistance
Compared with ordinary glass, quartz glass has excellent radiation resistance. Among them, synthetic quartz glass has the best radiation resistance and hardly produces color centers.